Making it Happen
What I see happening in the very near future (less than ten years) is we will create a new society under the protective umbrella of current society. Much of the things which need to be done, are being done all around us. Wiki software, for example, provides an anarchist style of website. It needs some improvement, but it is getting there. Open source provides a somewhat anarchist style of software development. It also needs some modification, which is what this wiki site is about.
When you look at the picture below, think of "us" as all like minded communities and individuals acting as one large community. Also keep in mind that buying and selling is a simplification, it can be with or without money (giving, sharing, or trading).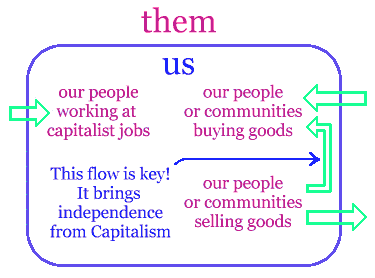 If we, the global community of like minded people, communities, and organizations, begin to act as a single community, it will happen. We as a community can shed our dependence on the Capitalist World. We do that by increasing our communities self reliance. Making our community rely on itself instead of relying on the outside world. All it takes is a few of us to put in our spare time. To put some work into it, and by concentrating our efforts we can produce an anarcho-communist society in the whole world. For example, say we produce a product and sell it. Just a generic product, which doesn't make huge money. By wealthy nation standards, isn't enough to live on, but by poor nation standards is good money. Those of us in wealthy nations would still be living in capitalism, but a small group of people in a poor country could then be removed from capitalism and placed in anarcho-communism. They would then be able to work full time producing more products. Soon more products are being sold and our small group of full time anarchists grows. We can do this, all you need to do is believe it. When enough people believe, we'll make it happen. It all comes down to confidence. If you have confidence, you can do amazing things. If a group has confidence, it can produce anarcho-communism. But what specifically can one do? You can look in the
To Do
Area for that info. That area is intended to give ideas to help get people started.